And now for something totally different. PoolFit is introducing a new series of non-water workouts for when you can't get in the pool. These videos will be in addition to the featured monthly pool workout. Ideal for more mature audiences, ChairFit Sports & Rec blends together Arthritis Foundation exercises and seated aerobic choreography with a sports & rec theme.
Many water fitness participants depend on the supportive properties of the water, including buoyancy which lessens the impact on joints. Similarly, water exercise participants feel comfortable and confident in chair exercise classes because they are non-impact and provide seated and standing support. ChairFit Sports & Rec is ideal for those who are looking for some in-home arthritis exercises to follow along with; or for those who desire a guided low-impact aerobic workout with fun chair choreography. The workout includes sit-to-stand drills for optimal leg strength as well as standing (supported) leg work that is designed to maximize hip mobility.
ChairFit Sports & Rec launches a series of non-aquatic videos designed to complement water exercise and/or provide workout options when the pool is not available. As mentioned above, these videos will be in addition to the featured monthly pool workout and audio download. Seasonal changes and inclement weather can put a kibosh on pool workouts. Therefore, PoolFit hopes to provide in-home workouts that provide a safe and fun alternative to water exercise. Cross-training between land and water exercise can produce optimal fitness results.
Chair exercise appeals to aquatic fitness participants because it is non-impact, which is exactly why many people choose water exercise as their preferred sport. PoolFit will strive to include a variety of in-home workouts for aging bodies, including light toning, balance training, floor work, yoga, Pilates and more.
ChairFit Sports & Rec is a chair exercise routine inspired from a class I teach at the Sarasota YMCA. As an AEA Arthritis Foundation Program Leader, I created a lesson plan that includes all of the main fitness components recommended by the Arthritis Foundation, including flexibility and range of motion, muscular strength & endurance and cardio-respiratory endurance. Most of the exercises in the workout are included in the Arthritis Foundation Program Leader Manual. Designed for program leaders, the manual can also be purchased by fitness consumers who want to have a printed guide of recommended arthritis exercises. For just $25.00, the manual is an affordable and invaluable resource. The exercises for both the water and the land program are illustrated and include modifications, variations and proper execution.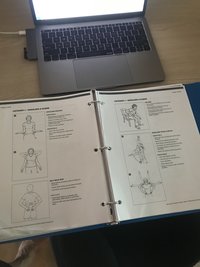 The Sit & Fit classes I sub at the YMCA are taught to an active older audience with a combination of seated and standing exercises. The participants want and expect to stand. The few who don't stand simply modify. Obviously, some chair classes are promoted to a more deconditioned population who cannot stand. As mentioned in the video, participants who don't stand should skip segment 4 and modify the sit-to-stand drills with the option provided.
Please see the video below for more of the "Why" behind the standing exercises and stand to sit drills.
CHAIRFIT SPORT & REC: VIDEO-AT-A-GLANCE
As mentioned above, this chair routine was designed to follow the recommended fitness components of an Arthritis Foundation (AF) Exercise Program.
Segment 1: Warm-up & Joint Prep
This segment includes a warm-up for upper body using exercises from AF Category 1 – shoulder and elbow; followed by a warm-up for lower body using exercises from AF Category 1 – hip and knee. This extended warm-up also satisfies the flexibility and ROM fitness component. Looking to add daily exercises for optimal joint function? This segment is for you.
Segment 2: Basketball & Kickboxing
Next, the muscular strength and endurance component was combined with the cardiorespiratory endurance component to form the main segment of the class – a chair aerobic routine with a sports & rec theme. If you enjoy aerobic classes that feature fun choreography that makes the time fly by – you will love this part.
Segment 3: Boating & Cheerleading
The aerobic portion continues with two more sports & rec themes. This segment also includes a finale of all four themes.
Segment 4: Limber Legs (skip this section if you want to avoid standing)
Optional activities can be included in an AF lesson plan, such as hand weights, rubberized resistance, balance training and floor work. The optional activity in this video is leg work that is performed in all directions to promote optimal range of motion in the hip joint. As we age, mobility in the hip decreases if we are not actively moving the hip in ALL directions. This rarely is the case in our daily activities. As hip mobility decreases, gait becomes locked up and many activities of daily living become difficult. Therefore, an exercise strategy to restore and maintain optimal range of motion (ROM) in the hip joint is needed.
Segment 5: Core & ROM
This segment begins with a brief seated core routine and concludes with a joint "tune-up" that targets all of the major articulations of the body. Performing ROM exercises for all major joints is recommended for those who suffer from arthritis or want to prevent it.
Segment 6: Stretch & Relaxation
A final stretch for the upper body is performed, followed by deep breathing and relaxation.
PoolFit is brand new and the site will evolve in the coming years to reflect the content and features that best help people to live their best lives by promoting workouts exclusively designed for aging bodies. Please feel free to let us know your likes and dislikes by commenting below the video or blog. Or you can contact as info@poolfit.tv. Your input will help develop the site.