Get an exclusive look at the latest water exercise equipment with Poolfit sponsored videos. Our first sponsored video features a collaboration between AquaBlastFit and AquaGym Fitness with a 20-minute pool workout that features the AquaBlast®, a multi-purpose exercise and kickboxing bag designed for water fitness and recreational activities.
Sponsored Videos
In the past, we have avoided posting videos that feature specialized equipment that most subscribers do not have. However, we also want to keep subscribers informed of all the ways they can exercise in the pool. Therefore, we created a new category of video. Sponsored videos will post sporadically and will feature specialized equipment. These videos will be added in addition to the two regular videos posted each month.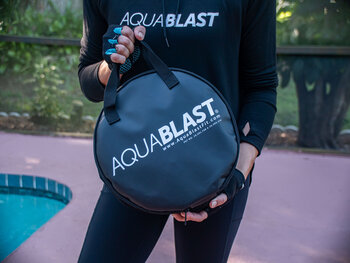 What is the AquaBLAST?
Poolfit's first sponsored video features a 20-minute athletic workout that features AquaGym Fitness founder, Stephanie Newberry using the AquaBLAST®, a portable punching and fitness bag that was just released in July 2020 by AquaBLASTFit. The AquaBLAST fills up with 6 gallons of pool water and floats just below the water surface, placing it in the ideal position for punching, kicking, lifting, and throwing. The patented bag interacts with the water's resistance and provides a unique full-body, low-impact pool workout. AquaBLAST is portable, so you can take it with you to the pool, to fitness centers, and on vacation. When finished working out, empty the water, and place it in the convenient carry bag. AquaBLAST is currently only available in the USA but will be available in additional markets in 2021.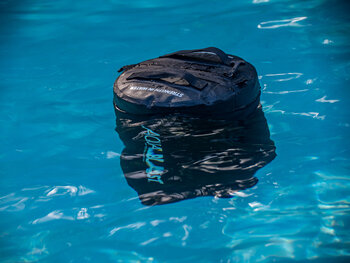 AquaBLAST Inspiration
Created by AquaBLASTFit founder, Robert Magrino, after injuring his rotator cuff several years ago, the original prototype was based on a plastic milk jug. Taking his doctor's advice, he started a daily low-impact routine in his swimming pool to strengthen his shoulder. "One day I filled some plastic milk jugs with pool water to use as resistance weights and each 1-gallon jug weighed about 8 pounds," says Magrino. Thrilled with this cheap and effective way to work out, he continued tinkering with the jugs and discovered they would float in a stable position by adding a little air and a small weight. The inspiration for the AquaBLAST bag was borne.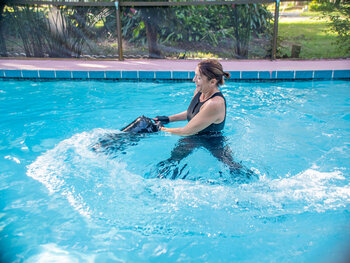 How to use AquaBLAST
The AquaBLAST bag can be used in a variety of ways. Consider using it as a weighted drag device as seen in the AquaBLAST Workout video; swinging, sweeping, pushing, pulling and lifting the bag in the water's resistance with moves such as Kettlebell Swing, Cable Pull, Wave Machine and more. The bag can also be tethered with a harness that is provided. Once tethered you can go into full kickboxing mode with punches and kicks. Simply let the air out of the air pocket and the bag sinks to the pool floor and can be used for lunges, squats, step ups and other lower body balance and strength activities. In addition to the AquaBLAST Workout, Fitmotivation also produced an AquaBLAST video library of moves, which is available to AquaBLAST customers.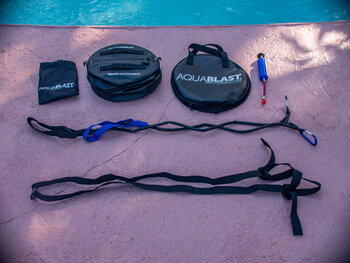 Coming in 2021
A small unassuming fish with a tenacious grip may hold the future for AquaBLAST workouts. The Northern Clingfish uses a small disk-like suction cup on its belly to "cling" onto rocks and uneven surfaces even as waves are crashing down around it. AquaBlastFit is working with researchers to develop a bio-inspired suction cup that can be used to tether AquaBLAST to the swimming pool floor. Preliminary testing confirms the suction cup can hold the force of the 50-pound AquaBLAST bag in place even after a knockout Ninja kick. The AquaBLAST suction tethering system has a planned release in mid-2021.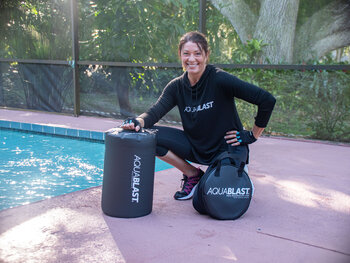 AquaBLAST Availability
The AquaBLAST is available on Amazon and can be purchased through the PoolFit Marketplace. During the holiday season, enter the code - Holiday10Percent- and enjoy an extra 10% off at checkout. The AquaBLAST is also exclusively available at Aqua Quip, a swimming pool and spa supply retailer with 10 retail stores in the Seattle region.