Summertime is here and we wanted to let you know about everything new and exciting with the Poolfit Water Exercise App. Since September 2020, 26 new pool workouts have posted and the Poolfit team has been busy releasing new features, such as trial workouts, categories, search, favorites, Chromecast/Airplay support and an android version of the app.
The Poolfit IOS App launched on May 15, 2020 with 50 pool workouts. There are now 89 pool workouts and 7 in-home fitness workouts posted, all led by top-notch aquatic fitness experts. The Poolfit team has been busy. Check out everything new since last summer.
NEW! ANDROID APP
Due to lots of requests, an android version of the Poolfit Water Exercise App was released in December 2020. Exercising in your pool with the Poolfit App is now accessible to anyone with an IOS or Android device. Android users can sign up for the app on the Poolfit website and then download the Poolfit App on the Play Store, or subscribe through the Play Store.

NEW! TRIAL WORKOUTS
Poolfit does offer a free trial month with access to all 90+ videos when someone subscribes for the first time. However, we now realize we should have offered a couple of trial workouts prior to subscribing because many people are skittish of subscriptions, despite our best promises that there really is no commitment and you can cancel at anytime. Problem solved! Three trial workouts have been added on the website, the IOS app and soon to be the android app. You can now give the app a trial run prior to subscribing by downloading a free workout and testing it poolside to see if the app will meet your water exercise needs. ShaDeep Interval Training, a 48-minute aqua boot camp that can be done in either deep or shallow water, is one of the trial workouts offered.

NEW! MANY MORE POOL WORKOUTS
Poolfit is all about a variety of water fitness workouts for all fitness levels. The 26 videos that have posted since the end of last summer reflect that variety with deep water, shallow water, dual depth, kickboxing, HIIT, Tabata, core training, muscle conditioning, foam dumbbells, arthritis, pool jogging, hi-lo aerobics, boot camp, Pilates, yoga and more. Check out previews of all the recent videos. Most of the Poolfit workouts are between 45-55 minutes in length. However, we started posting shorter 15-20 minute workouts that could be combined with other workouts on those days you want more core, flexibility or muscle conditioning.

NEW! CATEGORIES/SEARCH
There are now over 90 pool workouts. As the video library grew rapidly since last year's launch, navigating and searching for a video became burdensome. Having the ability to filter and search by preferred water exercise activity became important. The Poolfit team launched the categories feature on both website and the app. Now you can search over 30 categories of water fitness activities for the perfect workout. The team also added a search field that allows you to simply type in a key word to search for a video

NEW! FAVORITES
Downloading videos on the app provides a much better viewing experience than streaming. However, you may not want to store too many videos in your Downloads folder because they can take up storage space on your device. Instead, the team created the Favorites feature that allows you to archive your preferred workouts in a separate folder.

NEW! CHROMECAST / AIR PLAY SUPPORT
If you have a TV in your pool area, you can now cast the videos to a Chromecast enabled Smart TV or an Apple TV. Or you can just buy a $30.00 Google Chromecast device and plug it into an HDMI input into any TV and you are ready to go.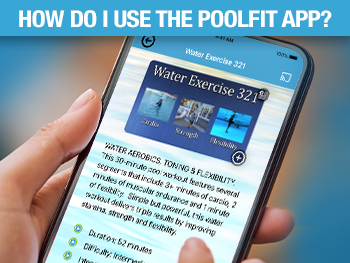 NEW! MOBILE APPS PAGE
The Poolfit website now provides a series of short videos that provide new users and potential subscribers with a comprehensive guide on how to use the Poolfit app. If you are still on the fence about trying or returning, visit the Mobile App page to learn more about how to get the most of your Poolfit workouts. The team will soon be integrating this tutorial directly into the app.
GET BACK IN THERE!
Make the most of summer by transforming your pool into a liquid gym. Following along with guided water exercise classes and workouts was never possible until the Poolfit App was launched. If you are a former subscriber, simply log in to your previous platform – Poolfit website or App Store and reactivate your account. The cost is $15.95/month. If you never subscribed, get signed up via the website, App Store or Play store and enjoy a trial month as a new subscriber. $15.95 monthly payments begin after your trial month. However, a Poolfit subscription can easily be canceled at anytime via your account settings. Subscribers can subscribe and unsubscribe as much and as often as they want. And don't forget, you can now download the app and simply TRY one of the trial workouts without subscribing.

WE WANT TO HEAR FROM YOU!
Poolfit is new and we would love your feedback on how we can improve to meet your water exercise needs. Keep in mind, Poolfit is not a swimming resource. Poolfit is intended for adults who want to exercise in the pool with activities other than swimming. Please consider taking this short survey. If you are enjoying Poolfit and have yet to leave us a review on the App Store or Play Store, please do so. Ratings & Reviews increase our visibility and help potential subscribers in their decision whether or not to try Poolfit. To those of you who have left reviews. THANK YOU. Check out some of the really nice things people are saying about Poolfit.

And to all of you who have subscribed and continue to do so, THANK YOU! We very much appreciate the opportunity to provide you with a resource for your water exercise needs.