The ABC Deep Water Workout is exclusively deep because it features lots of lateral travel, spins, turns and vertical to horizontal movement that could never be done in a studio or in shallow water. Poolfit posts lots of dual depth videos that can be done in both deep and shallow water because they accommodate any pool depth. However, I thought it was time to once again showcase the unique elements of zero gravity and deep-water fitness.
WHY ABC?
The ABC Deep Water Workout delivers total body results. The "A" stands for 15-minutes of aerobic exercise, the "B" for 15-minutes of body conditioning and the "C" for 15-minutes of core training. Each of the 15-minute segments have also been uploaded as separate 15-minute videos for use in the new app playlist feature. Poolfit has a category of 15-20 minute videos that are ideal for combining or adding to a full-length workout to create a customized exercise experience in the pool.
WORKOUT-AT-A-GLANCE
This 55-minute pool workout includes a warm-up, final stretch and the three 15-minute segments. Each 15-minute segment includes 8 movements or simple combinations that are taught with add-on instruction. Adding on and repeating the moves provides predictable patterning that helps participants improve form with repetition. The movement repetition also more effectively fatigues the targeted muscles.
Warm-up: The warm-up is actually a movement rehearsal of some of the trickier movement in the workout.
15- Minutes Aerobic Exercise: This segment delivers calorie-burning cardio with simple 2-move combinations that feature lots of lateral travel, turns and spins.
15-Minute Body Conditioning: This segment features upper body muscle conditioning with foam dumbbells.
15-Minute Core Training: This segment showcases the best of deep-water fitness with a medley of 2-move combos that go from vertical to horizontal and all around, which showcases the unique 360 canvas of deep-water exercise.
Dynamic & Static Stretching: This 5-minute final stretch segment once again spotlights zero gravity by performing the dynamic and static stretches with vertical to horizontal movement.
Why? Because if you can you should. Watch Mark talk more about the unique elements of zero gravity and deep-water fitness.

DEEP WATER EQUIPMENT CONSIDERATIONS - FLOTATION BELT
Yes, in every dual depth and deep-water video we post, we remind you that you must wear a belt. Why? First and foremost, it is a safety issue. Just as we recommend that there should always be someone else present in the pool area when you exercise, we also stress that a flotation belt must be worn when exercising in deep water. Aside from safety, a flotation belt also helps you achieve a better cardio and core results. Mark explains why in the video below. The Water Gym belt he is holding and wearing in that video is no longer available for sale. We now recommend the HYDRO-FIT WAVE Belt for optimal performance, comfort and quality.

DEEP WATER EQUIPMENT CONSIDERATIONS - WEBBED GLOVES
The use of gloves is not required in deep water fitness, but I like to use them for two reasons. First, they increase drag resistance and enhance muscular conditioning for your upper body. Secondly, they provide upward propulsion in deep water. If you tend to sink a bit in the water even with a flotation belt on, I highly recommend the use of gloves in deep water fitness. The gloves I am wearing in the video are the HYDRO-FIT WAVE Mitts.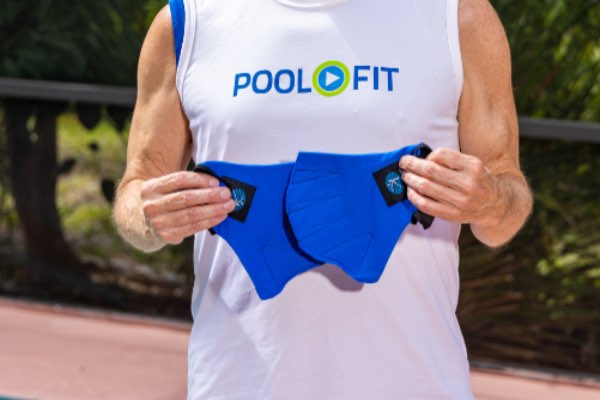 DEEP WATER EQUIPMENT CONSIDERATIONS - FOAM DUMBBELLS
The 15-minute body conditioning segment features upper body exercises using hand buoys. Buoy size is critical. Large buoys in deep water fitness are problematic because you are already fully buoyant in deep water and even more so with a flotation belt on. Large, dense buoys simply add too much additional buoyancy and make it difficult to exercise with proper form and alignment. The buoys I am using in the video are the HYDRO-FIT Mini Hand Buoys.
Awesome new product alert! HYDRO-FIT now sells Hand Buoy Comfort Grips that velcro around the buoy handle allowing you to slip your hand in the strap. This allows you to take frequent hand breaks from gripping, while keeping the buoys with you the entire time.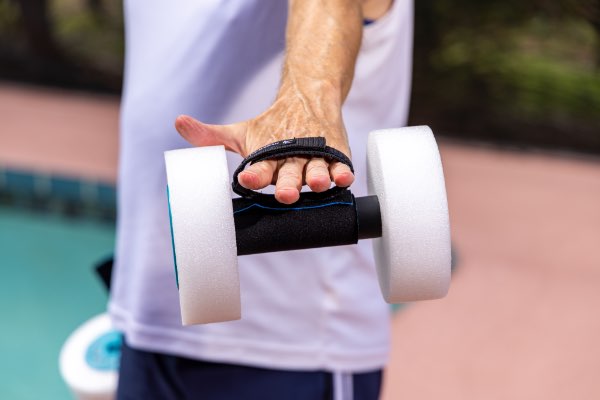 Watch Mark talk more about these equipment considerations and additional deep-water tips in the video below.
Enjoy this deep-water workout as a full 55-minute workout or as separate 15-minute workouts on days when you want extra cardio, upper body or core training. On behalf of the Poolfit team, we want to welcome all new subscribers and our returning seasonal subscribers. If you are enjoying Poolfit workouts, please leave us a review in the App Store or Play Store. Reviews act like testimonials that inspire others to give the app a try. As a small business, we sure would appreciate your support in helping us grow. Thank you in advance.